Checking your drone before flight is a standard practice. Many drone operators have an established routine that often includes recharging the battery and controller, updating the firmware, recalibrating the compass, assessing the propellers, and confirming GPS connectivity.
But situation awareness is also critical for safe flight. In low altitude airspace, conditions can shift rapidly and unpredictably, so it's important to minimize risks by evaluating local conditions in the air and on the ground.
We recommend adding the following steps to your drone pre-flight checklist to up-level your situational awareness and make safer flight decisions.
1. Understand microweather conditions
As many operators can attest, weather conditions such as wind, temperature, and precipitation can have a major impact on drone hardware and overall success of the flight. The challenge is traditional weather sources often take 20 minutes to update and provide high-level data over a wide 2,000- to 4,000-meter radius.
Microweather data on the other hand is far more localized with updates every 60 seconds and details within a 500-meter radius, including precipitation, temperature, wind, cloud cover, visibility, and more.
Our free SkyGrid Flight Control app provides this hyper-local weather data to help drone operators ensure they're flying in optimal conditions based on the current temperature, cloud base, dew point, etc. This level of detail can also help avoid situations where rain or wind speeds unexpectedly increase during flight and damage the aircraft.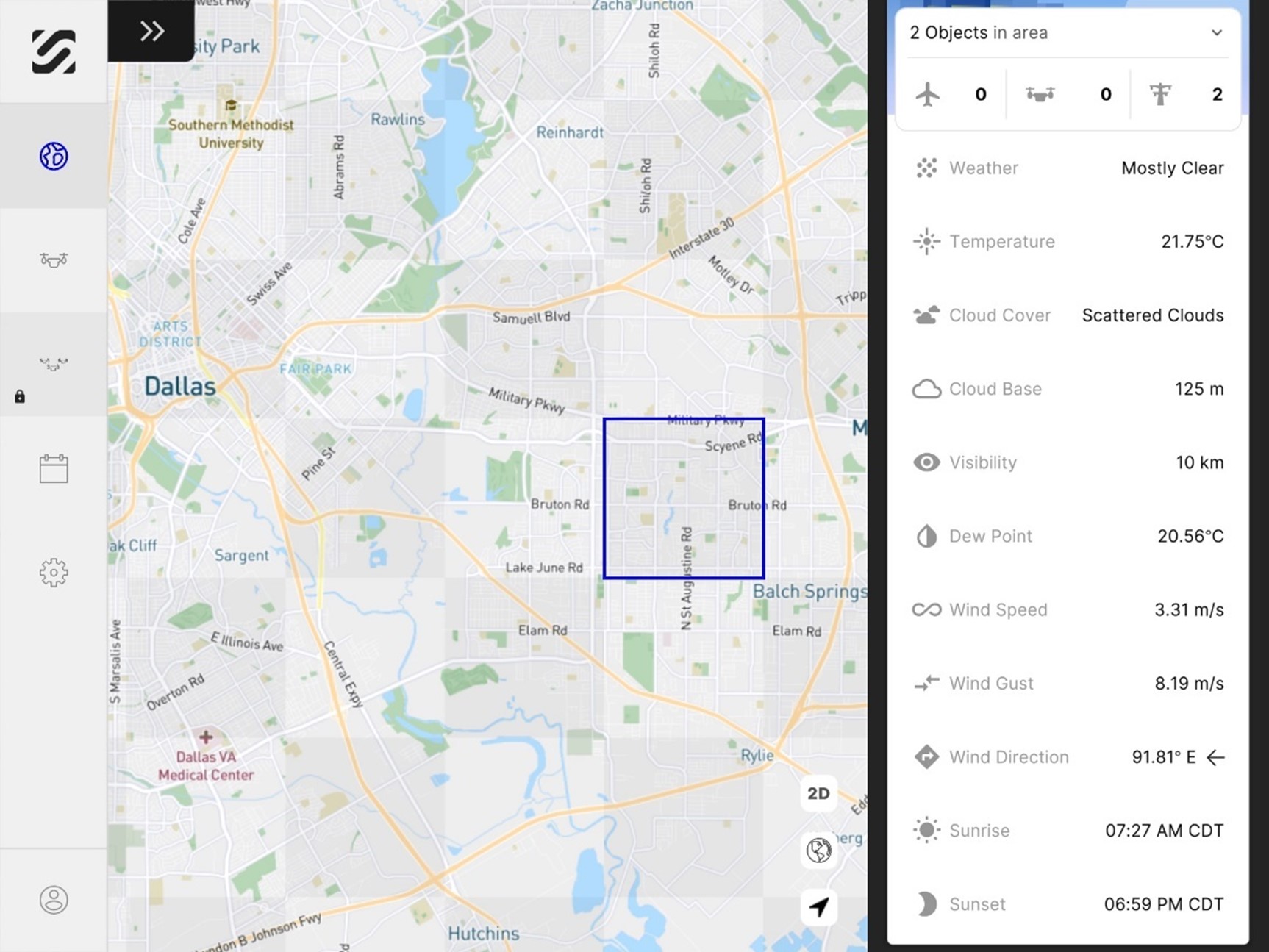 2. Evaluate roadway traffic
Unless flying in a remote location, it's also important to add roadway traffic to your drone pre-flight checklist. This data can help operators avoid flying over congested areas that may pose a risk to vehicles and people on the ground.
Within SkyGrid Flight Control, the traffic layer can be turned on to see light vs. moderate vs. heavy traffic. High roadway traffic can be also be an indication of high pedestrian traffic. Operators can use this data to schedule their flights when the least amount of traffic is expected.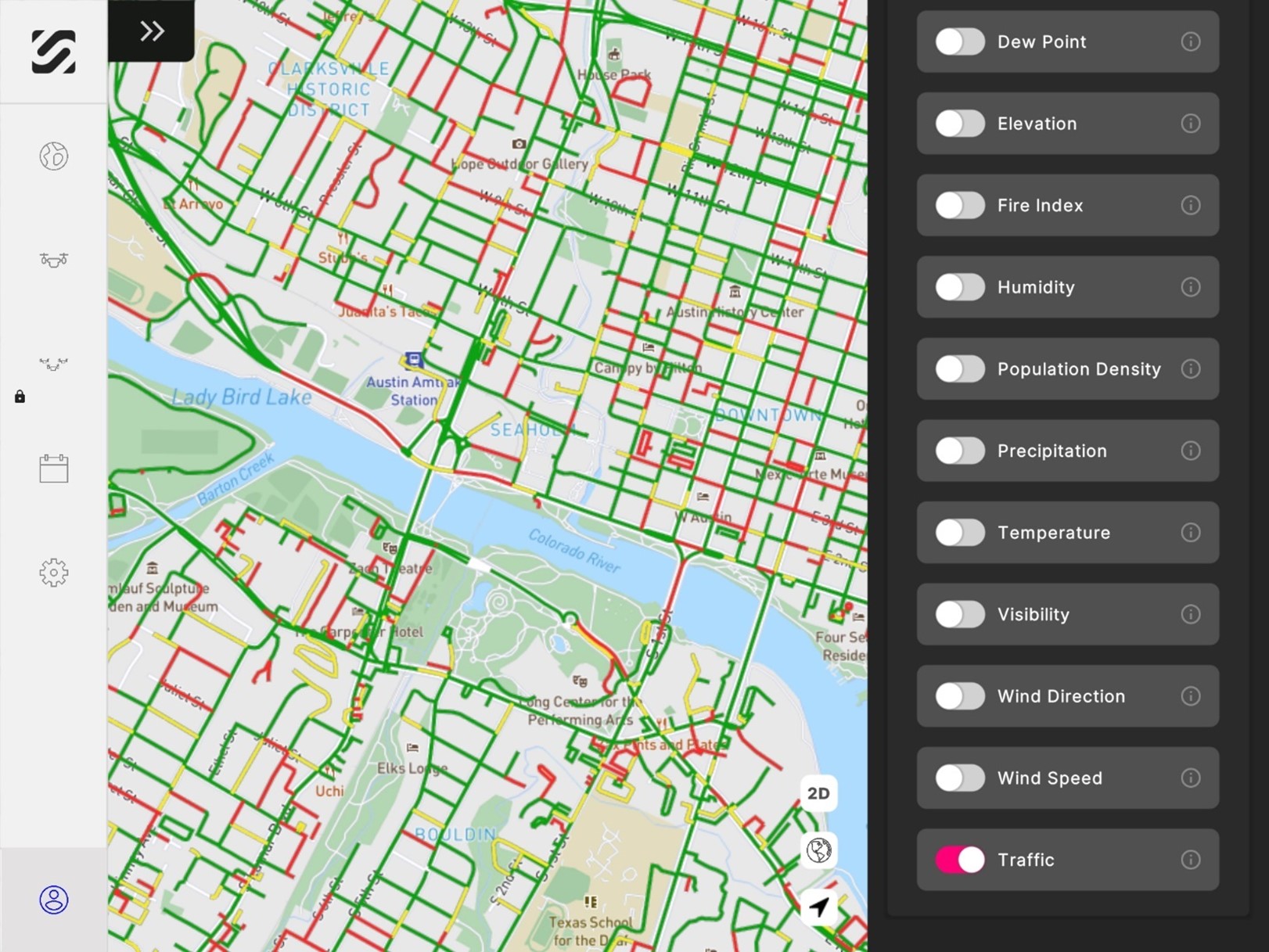 3. Assess the elevation
Checking the local elevation can also be beneficial for your drone pre-flight checklist. By identifying how elevation fluctuates in your area, operators can safely fly over varying terrain and maintain the desired altitude above ground level.
For example, you may need to fly under 100-feet altitude for missions that require high resolution imagery, such as a site inspection or search and rescue operation. Detailed elevation data can help you maintain this altitude as the ground level shifts throughout the flight.
The elevation layer in SkyGrid Flight Control shows the highest elevation points above ground level, which makes it easy to set optimal altitudes during the flight planning process.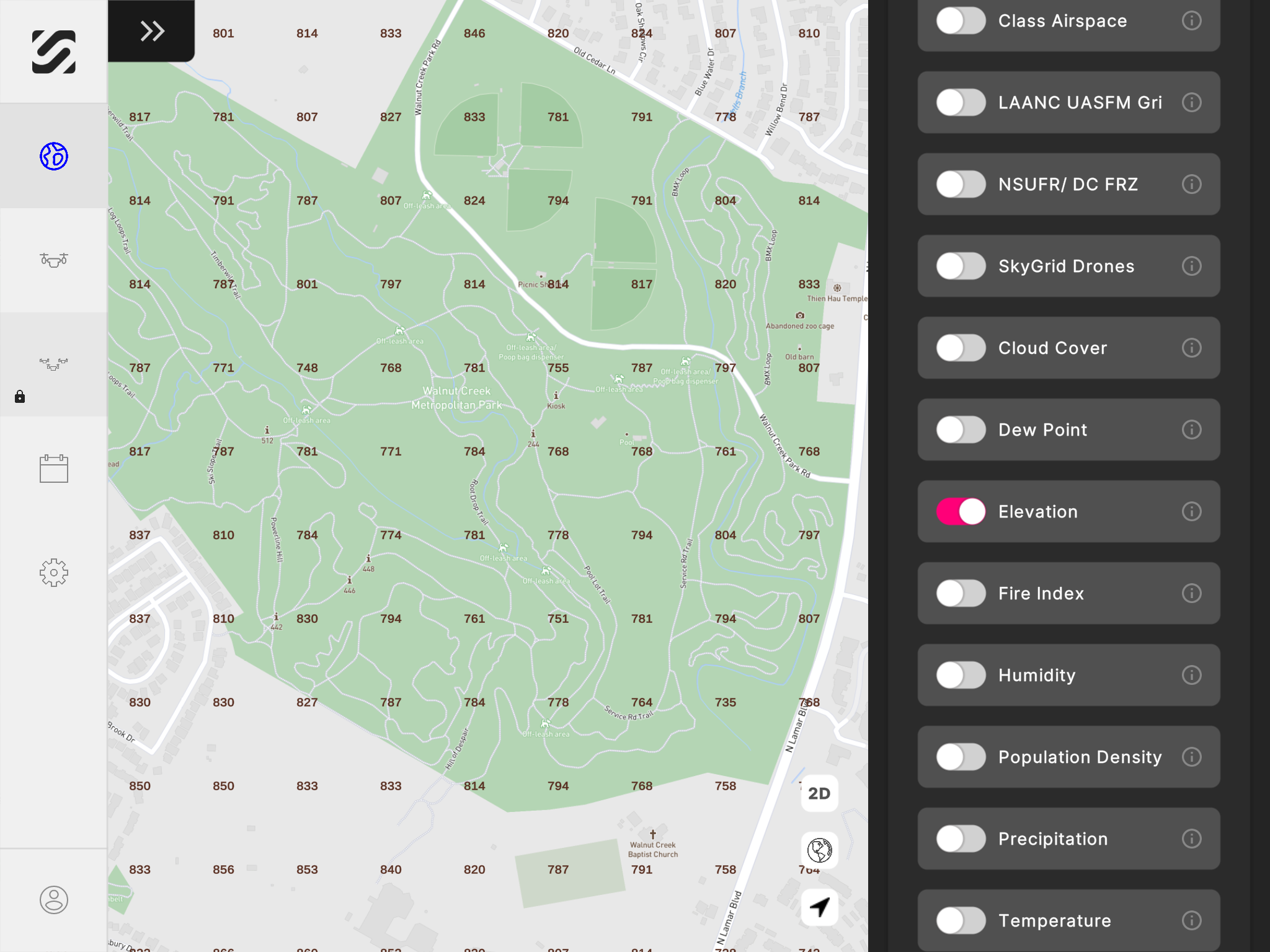 4. Check for local fires
Unfortunately, wildfires in the western region of the United States are becoming more frequent. This poses a couple different risks for drone operators. For starters, the heat and lack of visibility can lead to aircraft damage. But more importantly, your drone could interrupt the efforts of firefighters.
If a drone flies near a wildfire, fire response teams are often forced to ground their aircraft to avoid the potential of a midair collision. This could delay the airborne response to the fire and create a larger threat to people and property in the area. Unless involved in the firefighting operation, drone pilots should avoid flying near wildfires at all costs.
Drone operators can also check the local fire index to see what the wildfire risk is in their local area. The fire index layer in SkyGrid Flight Control app indicates the highest risk in red and the lowest risk in yellow. Operators should be extra cautious in areas with a high risk.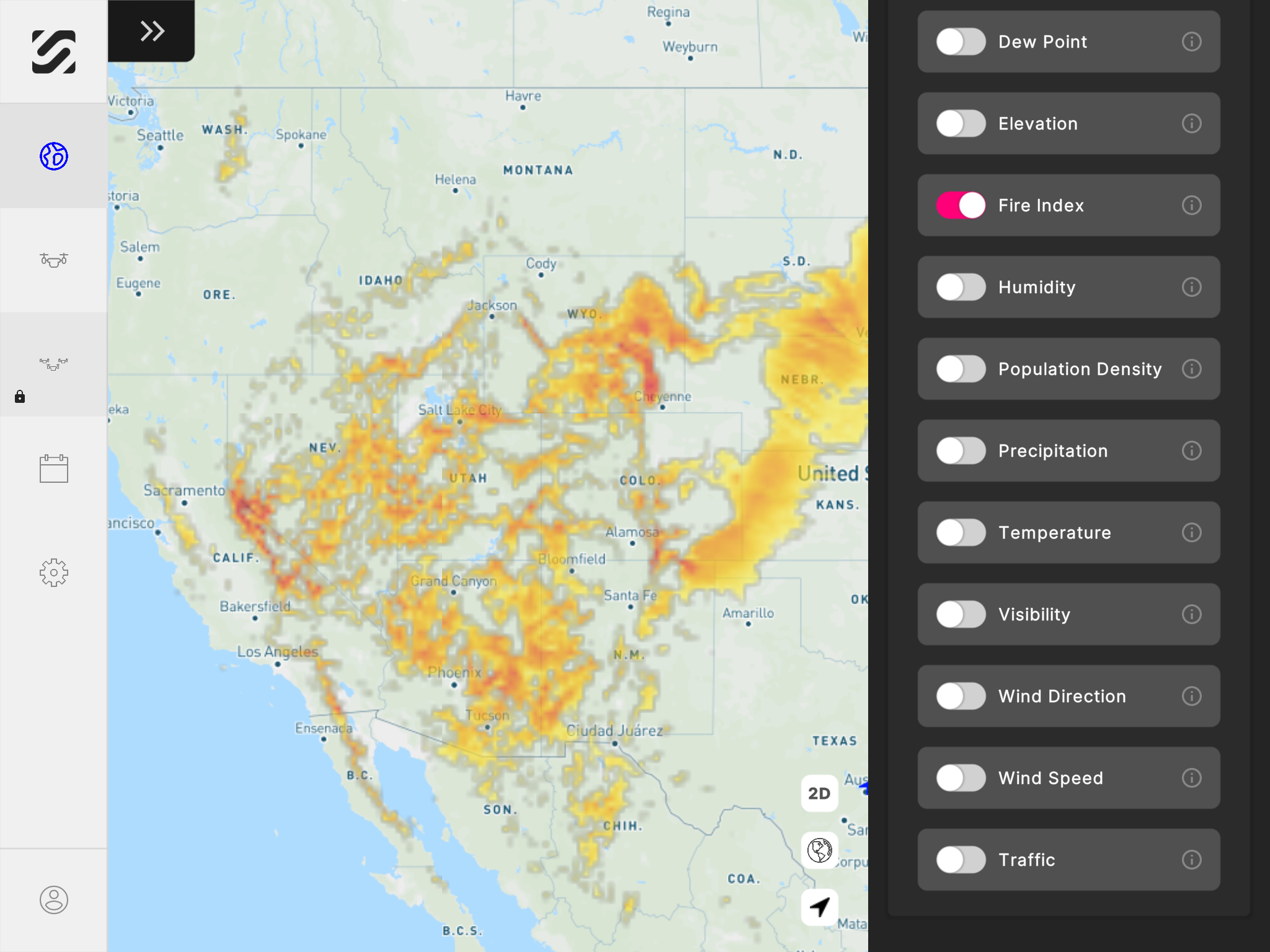 5. Evaluate airspace classes & advisories
Hopefully this step is already part of your drone pre-flight checklist, but if not, it's a critical one! Before taking flight, drone operators should check the airspace classes and altitude ceilings in their area. If flying in U.S. controlled airspace (Class A, B, C, D or E), flight authorization is required.
The airspace map in SkyGrid Flight Control identifies each airspace class and displays the pre-approved ceilings where LAANC is available for auto-approval. But no matter if you're flying in controlled airspace or not, it's always important to check for drone flight restrictions in your area. These FAA restrictions are often issued around military bases and high-security events. Operators who violate these flight restrictions may be subject to civil penalties and criminal charges.
SkyGrid Flight Control shows both part-time and full-time National Security UAS Flight Restrictions (NSUFRs). See example of UAS flight restrictions shown in red below.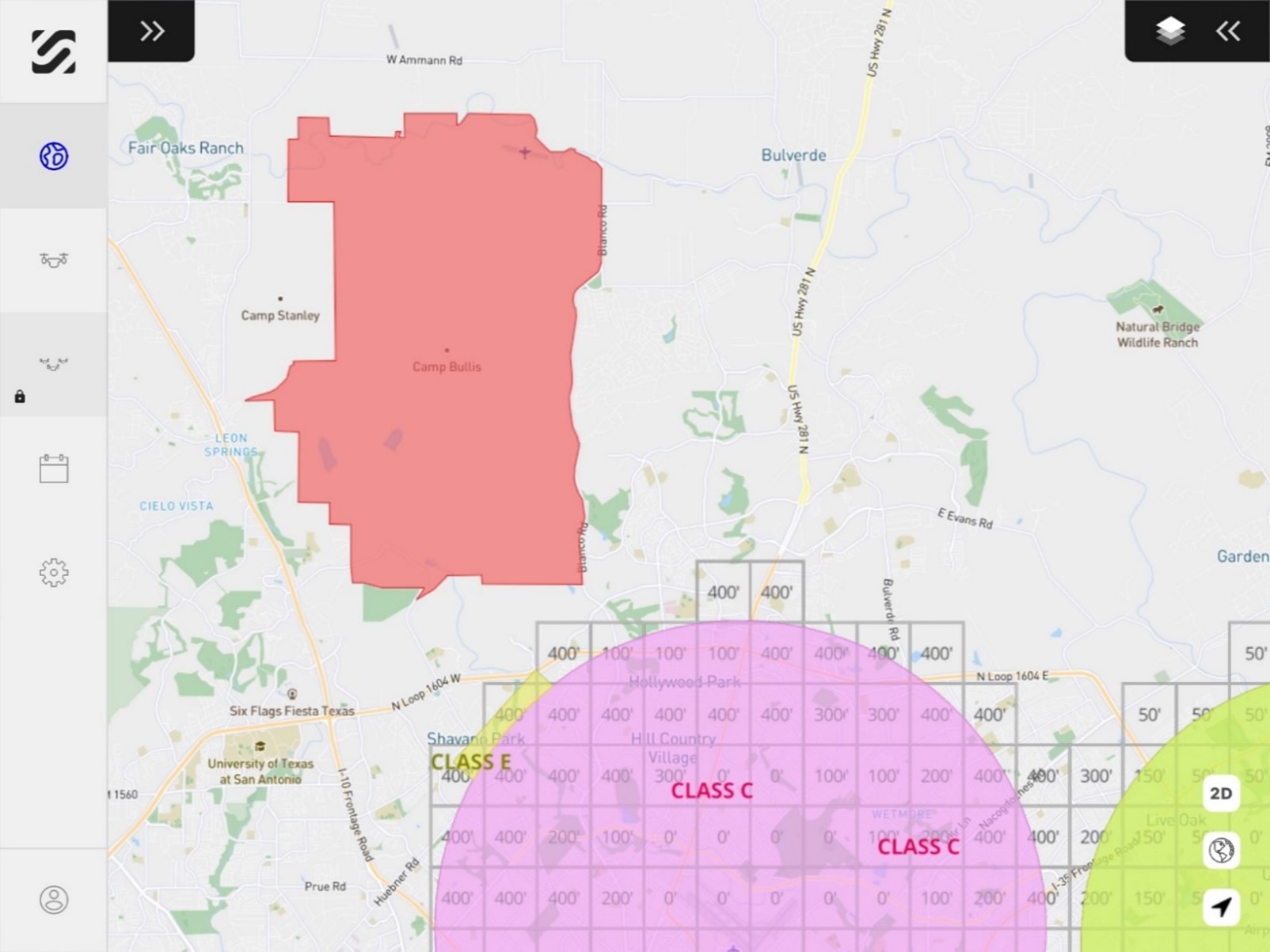 Detailed, up-to-date data is critical to minimize flight risks, especially when you consider how quicky conditions can change in low-altitude airspace. Our free SkyGrid Flight Control makes it easy to improve your situational awareness with advanced airspace, regulatory, and location data.
Download SkyGrid Flight Control today to start adding these steps to your drone pre-flight checklist.