Where can I fly my drone? This should be the first question you ask before taking flight. However, many drone pilots still make the mistake of operating in no-fly zones, also known as "no drone zones." These areas include the airspace around airports, stadiums, emergency situations, and more. 
Pilots who operate drones in no-fly zones are not only giving the industry a bad rap, they're also putting lives at risk. To avoid these scenarios, we kicked off a new series on the top drone mistakes in 2021 and beyond. In Part 3, we covered the top mistakes around the flying in adverse conditions. This time we'll focus on the top mistakes when it comes to operating in no-fly zones. 
Mistake 1: Flying in U.S. controlled airspace without flight authorization
Always should check the airspace classes and altitude ceilings in your area before taking flight. If flying in U.S. controlled airspace (Class A, B, C, D or E), flight authorization is required. Controlled airspace is typically found around airports and at certain altitudes where air traffic controllers are actively directing/separating manned aircraft. See how the FAA defines the airspace classes below: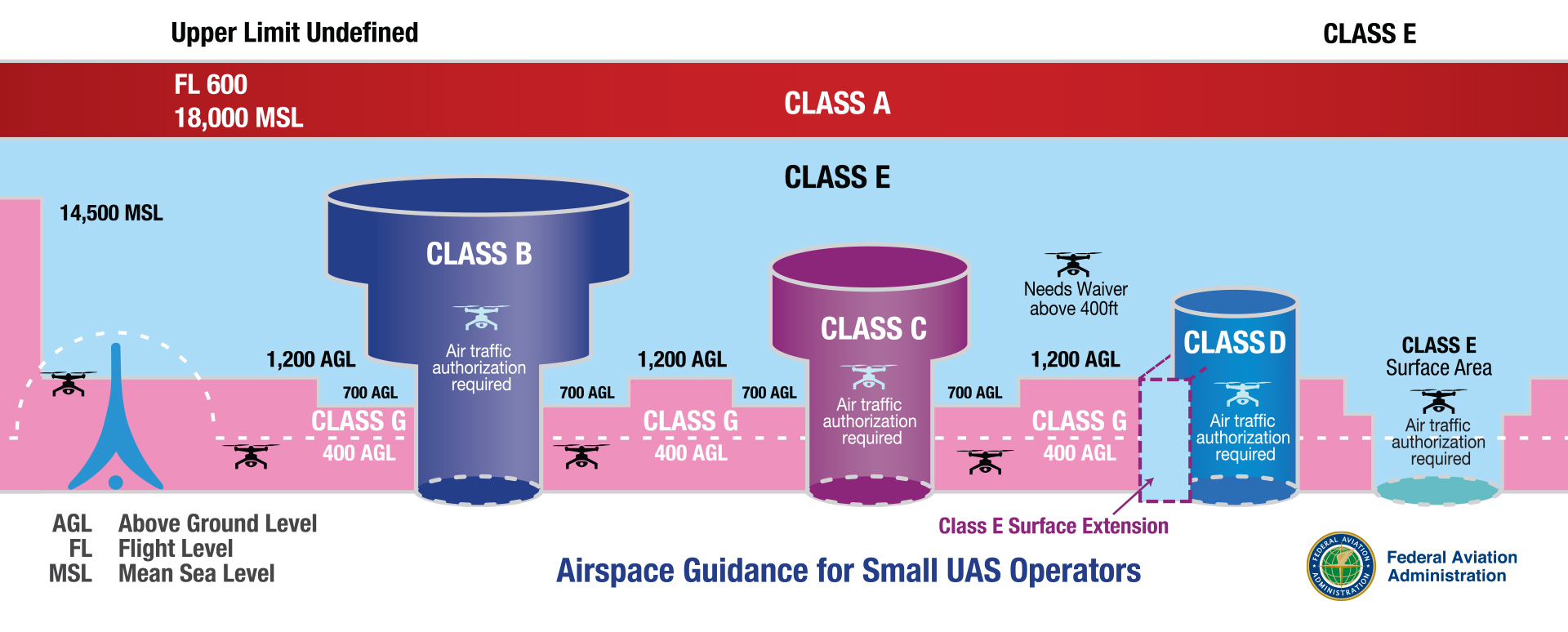 Drone operators are prohibited from flying in controlled airspace without authorization. Although it sounds complex, drone pilots can easily identify controlled airspace in our free SkyGrid Flight Control app. To get LAANC authorization, you should follow the guidelines provided by the Federal Aviation Administration (FAA). For detailed information, instructions, and requirements, please visit the FAA's LAANC information page to get more information.
Mistake 2: Flying higher than 400 feet above ground level
When flying in uncontrolled airspace (Class G), drone pilots should never fly higher than 400 feet above ground level. This FAA rule helps minimize any potential collisions between manned and unmanned aircraft. Keep in mind the 400-foot limit is measured above the surface, so drones can still fly 400 feet above a cliff or building, as long as they're in uncontrolled airspace.
When flying in controlled airspace (Class A, B, C, D or E), the altitude ceilings are absolute values above ground level. These altitude limits should NOT be added to the height of any structures. Pilots can find the altitude ceilings in controlled airspace within the SkyGrid Flight Control app.
Mistake 3: Flying within national UAS restricted zones
No matter if you're flying in controlled airspace or not, it's always important to check for National Security UAS Flight Restrictions (NSUFRs) in your area. These no-fly zones are often issued around military bases and high-security facilities and events. Operators who violate these flight restrictions may be subject to civil penalties and criminal charges. Pilots can find the areas labeled as NSUFRs in the SkyGrid Flight Control app.
Mistake 4: Flying near emergency situations, such as fires and vehicle collisions
Hopefully you already know this is big no no! Flying your drone near an emergency situation can prevent first responders from doing their jobs effectively and put lives at risk. For example, if a drone flies near a wildfire, fire response teams are often forced to ground their aircraft to avoid the potential of a midair collision. A drone flying near a traffic incident can also hamper police or medical aircraft operations. Ultimately, interference by a drone can cost lives.
Mistake 5: Flying near sporting events or stadiums
Unless authorized, drone pilots are also prohibited from flying in and around stadiums during events, starting one hour before and ending one hour after the scheduled event time. These events include concerts, sporting events, and races in stadiums and venues that seat 30,000 people or more. The no-fly zone covers a radius of 3 nautical miles of the stadium and up to 3,000 feet above ground level.
And that's a wrap! We hope this series will help clarify some of the misconceptions around the drone rules and best practices. 
Download SkyGrid Flight Control for free in the Apple App Store.