The Federal Aviation Administration (FAA) recently released version two of its Unmanned Aircraft System (UAS) Traffic Management Concept of Operations – short for UTM ConOps. Initially released in 2018, this framework outlines the technical requirements for a successful UTM ecosystem. UTM ConOps V2, released in March 2020, addresses more complex, beyond visual line-of-sight (BVLOS) drone operations in controlled airspace.
You can check out the full 80-page document, or keep reading for the highlights (highly recommended). We'll start with the basics of UTM and why it's needed. Then we'll cover what this framework means for commercial operators, and what's required of them when operating drones beyond visual line of sight.
What is UAS traffic management (UTM)?
The FAA defines UAS traffic management (UTM) as a system that's separate but complimentary to the FAA's Air Traffic Management (ATM) system for manned aircraft. UTM will enable multiple BVLOS drone operations at low altitudes (under 400 feet) in both controlled and uncontrolled airspace.
As shown in the diagram below, Class G airspace is uncontrolled while Class A, B, C, D, and E are considered controlled airspace. The FAA sets the regulatory standards and requires authorizations for drones operating in controlled airspace, but air traffic services are not provided under 400 feet. Commercial operators are ultimately responsible for the coordination, execution, and management of their drones in controlled airspace with support from UAS service suppliers like SkyGrid.
For example, as a UAS service supplier of the FAA's Low Altitude Authorization and Notification Capability (LAANC), SkyGrid helps automate airspace authorizations and provides the tools operators need to safely navigate the airspace.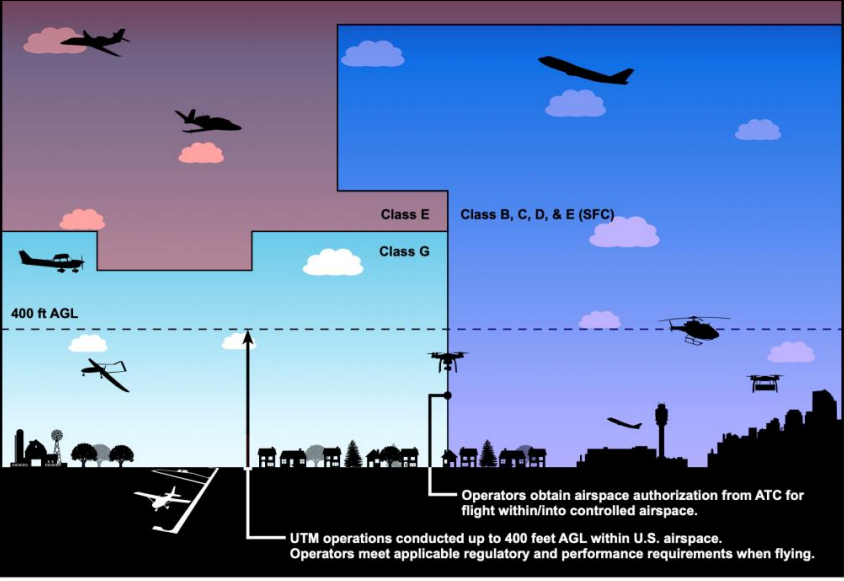 (Source: FAA; UTM operations in context of airspace classes)
Why is there a need for UAS traffic management?
In the U.S. alone, the FAA predicts the combined number of recreational and commercial drones will reach up to 3 million by 2023. When there are millions of unmanned flights supporting package deliveries, infrastructure inspections, emergency assistance, and more, the existing air traffic management system will become overburdened and stretched beyond its limits. This system isn't equipped to cost-effectively scale and deliver services to drones.
The challenge is drone operators often need more information than traditional pilots for safe and secure flight. They're operating aircraft at a lower altitude, which can lead to bigger public safety risks. That means in addition to aircraft traffic data, drone operations need access to weather data like wind, precipitation, and temperature; environment data like stadiums, schools, and construction cranes; and vehicle data like battery life, weight capacity, and maintenance requirements. To avoid potential incidents, drone operators also need information about ground activity, such as roadway traffic and population data.
Most importantly, drone operators need a system to monitor and interpret all this data to make more informed decisions when planning and executing missions.
Who are the participants and entities involved in UAS traffic management?
Here's a quick overview of the participants and entities involved in UAS traffic management, according to the FAA's UTM ConOps framework.
UAS traffic management participants:
FAA: Within UTM, the FAA's primary role is to provide a regulatory framework for UAS operations and share airspace constraint data (e.g., flight restrictions, facility maps).
Operators: The person or business responsible for the overall management of their UAS operation. They're expected to plan and execute their operation, comply with regulations, and share operational data with the UAS traffic management ecosystem.
Remote pilot in command (RPIC): The remote pilot in command is responsible for individual UAS flights and may serve as both the operator and the pilot. During flight, they're expected to follow the airspace rules, monitor the drone's performance, and avoid obstacles and hazardous conditions.
General public: Other UTM stakeholders include the general public, law enforcement, and first responders. When authorized, these entities can access UTM operation data to help ensure the safety and privacy of people and property on the ground.
UTM services and supporting infrastructure:
UAS service supplier (USS): UAS service suppliers, such as SkyGrid, help enable the safe, secure, and efficient use of our airspace. They act as a communication bridge between authorities and drone operators, and often provide tools to monitor the airspace, execute safe missions, and store operational data.
UAS service supplier network: Multiple UAS service suppliers can operate in the same geographical area and create a network to share information and ensure situational awareness. Shared information includes flight plans, flight status, and aircraft location.
Flight information management system (FIMS): This entity enables the exchange of national airspace data (e.g., UAS registrations, waivers, flight restrictions, emergencies) between the FAA and the USS network. The FAA also uses this system to access information from the UTM ecosystem and audit drone operations.
UAS supplemental data service providers: In addition to national airspace data, supplemental data providers can enable more advanced airspace information, such as terrain, obstacle, weather, and population insights. UAS service suppliers like SkyGrid partner with these providers to give drone operators the most the up to date information about the airspace and the ground below.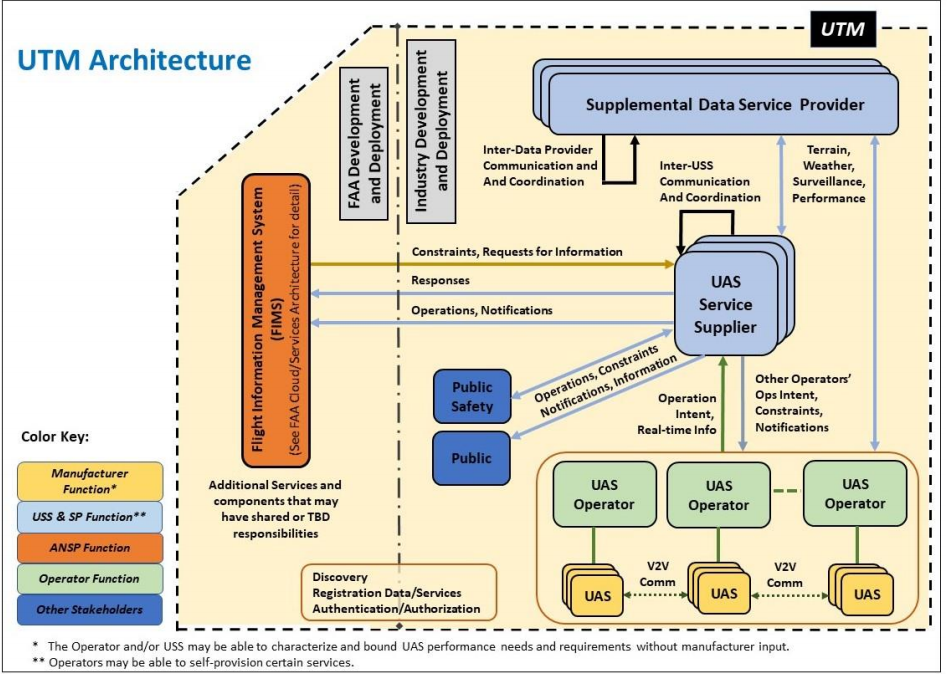 (Source: FAA; UTM architecture)
What does the UTM framework mean for commercial drone operators?
It depends on whether a business needs to operate drones within or beyond visual line of sight. If a business can complete their mission by operating drones within visual line of sight, the process isn't quite as complex. They're required to register their drone with the FAA, follow the Part 107 regulations, obtain airspace authorization, and ensure their drone is remotely identifiable.
However, in many cases, businesses need to operate drones beyond visual line of sight to complete a wide range of missions from package deliveries to industrial inspections. That means they'll need more advanced technology in place to identify other aircraft, stay up to date on airspace changes, and safely reroute drones to avoid potential hazards.
The FAA's UAS Traffic Management ConOps further details what's required of BVLOS drone operators to ensure the safety, security, and equity of our airspace. We'll break down each pillar and explain how UAS service suppliers can help commercial drone operators meet these requirements.
What are the safety requirements for BVLOS operations?
When it comes to safety of airspace, the FAA's UAS traffic management framework outlines several requirements for commercial drone operators, including the following.
Strategic management of operations: BVLOS operators are required to plan their operation and share their intended flight path, including specific entry and exit times in authorized airspace, with a UAS service supplier. This intent data is then shared with authorities and the USS network to provide situational awareness for other operators. However, creating a flight plan is easier said than done. That's why many operators look to UAS service suppliers like SkyGrid for support. For example, our system uses AI to generate optimal flight paths based on the mission criteria, vehicle performance, and airspace conditions. This helps operators remove the manual guesswork from the process.
Separation provision/conflict management: BVLOS operators are also responsible for maintaining separation from all aircraft, including other drones and manned aircraft. This often requires in-flight deconfliction technology from a UAS service suppliers. For example, SkyGrid uses deconfliction technology powered by AI to detect and avoid nearby aircraft. This technology can also help BVLOS operators ensure their drone remains within the bounds of their intended flight path.
Contingency management: In the event of a contingency, operators are also responsible for notifying affected aircraft users. Contingencies include an active flight that is undergoing a critical equipment failure, experiencing a loss of tracking capabilities, or operating outside the bounds of their intended flight path. A UAS service supplier can assist in notifying authorities and affected operators of the new flight plan and emergency status until the hazard is no longer a risk. UAS service suppliers can also help manage the situation effectively or help prevent the contingency altogether. For example, SkyGrid uses AI technology to analyze drone performance and predict maintenance needs before disaster strikes.
What are the security requirements for BVLOS operations?
In the UAS Traffic Management ConOps, security refers to the protection against threats that stem from intentional acts (e.g., terrorism) or unintentional acts (e.g., human error), affecting people and/or property in the air or on the ground.
Commercial drone operators are responsible for protecting their drones from both intentional and unintentional acts. If a security incident occurs, commercial drone operators are also required to share certain flight data, such as their intended flight paths, route changes, and a timestamp of coordinates. The FAA uses this data to 1) ensure operators are compliant with standards, 2) hold operators accountable, and 3) inform other operators in the vicinity of the threat. Local, state, and federal entities may also request access to this data to investigate and inform responses to security incidents.
A UAS service supplier can support commercial operators by securely logging the required flight data and responding to authorized requests for access in near-real time. For example, SkyGrid uses blockchain technology to maintain a minute by minute record of each drone's status, flight details (e.g., altitude, location), and maintenance history. Each flight log is linked to the previous log with cryptography, which creates a verified data source for authorities. UAS service suppliers can also help prevent incidents in the first place by deploying cybersecurity protection on the drones in their system.
What are the airspace equity requirements for BVLOS operations?
The UAS Traffic Management ConOps also outlines a framework to enable the shared use of airspace. Although the FAA sets the airspace rules, there's not a priority policy in place that would diminish equity of access. In other words, drone operators have equal access to airspace where they're authorized to fly.
However, BVLOS operators are required to share accurate, up-to-date flight plans to optimize the airspace and pre-empt unnecessary deconfliction. They're also required to exercise caution around any emergency vehicles in the air, such as a helicopter.
UAS service suppliers can support operators by identifying flight paths that minimize overlap with other routes and by sharing flight plans with the UTM ecosystem in near-real time. Service suppliers can also help ensure operators aren't optimizing their own routes at the expense of others.
How does SkyGrid fit into the UTM ecosystem?
Ultimately, businesses are responsible for the overall safety and security of their drone operation and are accountable for their actions. This can feel daunting, but SkyGrid can help. We're more than just a UTM platform. Our AerialOS™ provides an end to end solution for businesses to deploy, manage, and scale their drone operation. Most importantly, our system is powered by next-gen technologies like AI and blockchain that traditional UTM systems aren't equipped with today.
Why is this important? AI is critical to generate the safest routes, avoid hazards in-flight, and protect against cyberattacks. At the same time, blockchain technology is the key to mandate airspace compliance and create verified audit trails. Bottom line: Our intelligent system minimizes the potential for human error to give businesses more legal and safety assurances.