Drones are disrupting a wide variety of industries and innovating outdated business models. Just in the last few months, drones delivered test kits and disinfected outdoor surfaces to help fight COVID-19. They assessed hurricane damage and delivered aid to the most devastated areas. And they inspected pipelines to prevent leaks in the oil and gas industry.
But as an organization's fleet grows, it's not feasible to manually execute every flight that's delivering a package, conducting an inspection, or responding to an emergency. Drone automation is critical to safely scale operations and enable more advanced missions.
At SkyGrid, we're solving this challenge with a smarter drone solution that automates every phase of flight. Our free SkyGrid Flight Control app makes it easy to generate flight plans, get auto-approval to fly, and autonomously execute the mission.
Check out a quick overview of our drone automation capabilities and read on for more details.
How does SkyGrid automate drone operations?
In our last post about drone flight planning, we explored how SkyGrid Flight Control enables operators to automatically generate mission plans based on their flight parameters, such as the start and end time, altitude, speed, and distance between sweeps. Once the mission plan is finalized, our app also allows operators to autonomously launch their drone, perform the pre-defined flight plan, and get real-time insights.
More specifically, operators can take the follow actions during flight:
Autonomously execute single and multi-objective missions.
Monitor your drone's real-time camera feed.
Leverage AI computer vision to automatically detect objects and act on the information in real-time.
View real-time mission progress as you execute a flight plan.
Pause and resume your mission.
Take photos and videos during flight.
View native control functions, like camera settings, speed, heading and more.
For example, first responders can monitor the live feed to identify a lost or missing person during a search and rescue operation. As the drone autonomously surveils the defined area, our AI computer vision will help detect the missing person in real-time, enabling first responders to quickly identify the coordinates and evaluate conditions for ground accessibility.
Operators also have the option to manually take control of the flight at any point in time during an automated mission. For example, during a perimeter surveillance mission, an operator may identify an object of interest in the live video feed and take control to inspect the object more closely.
The example below shows the live video feed during flight. With object detection turned on, pilots can automatically identify objects, such as vehicles, people, and animals, in real-time.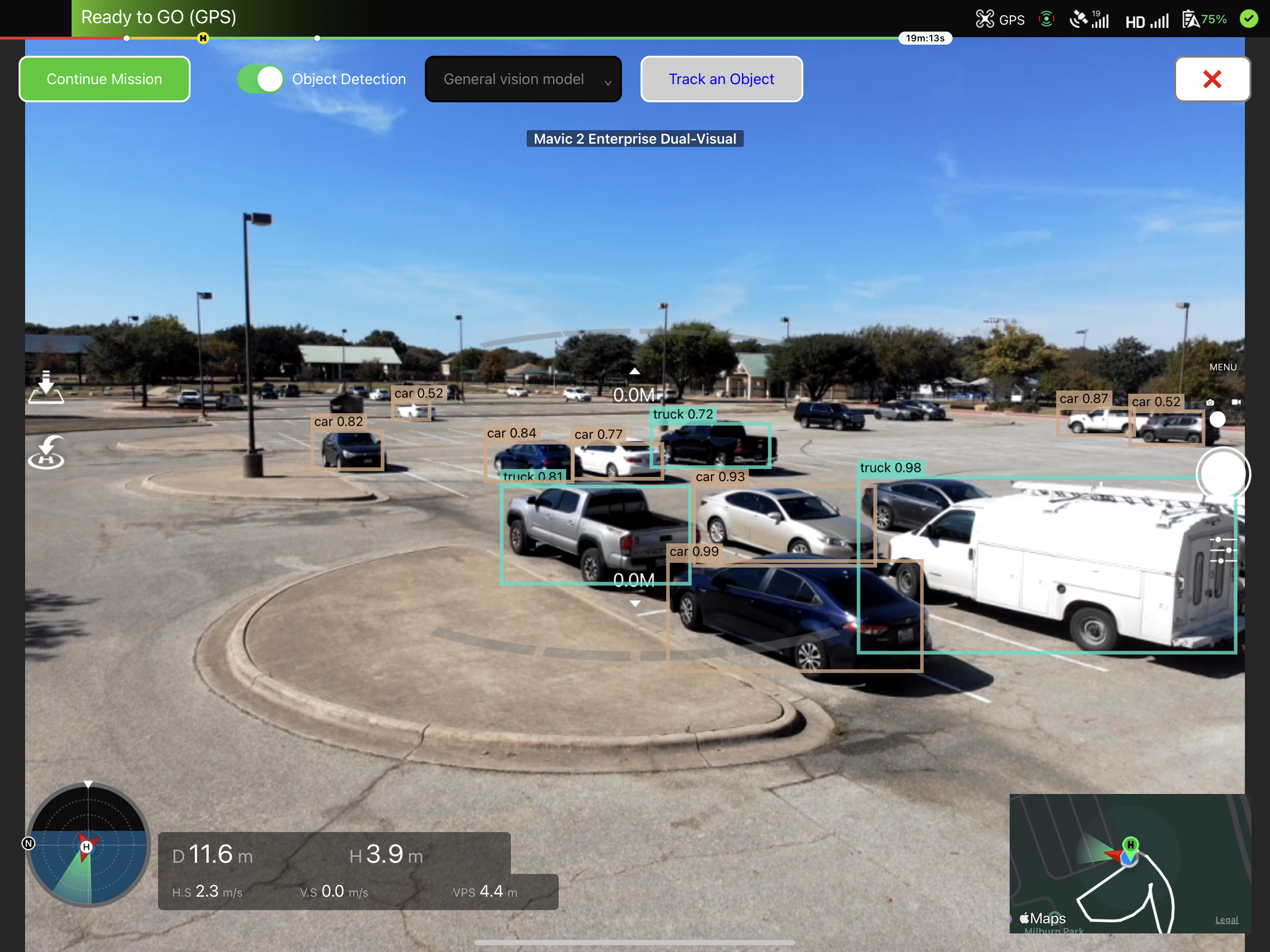 What drone automation features are available for enterprises?
For enterprise customers, we can optimize flight planning and execution with artificial intelligence. Our AI algorithms can analyze crucial data, such as airspace traffic, weather forecasts, roadway traffic, and vehicle performance, to automatically generate optimal flight plans and autonomously adapt flights as conditions change. For extra safeguard measures, operators have the ability to approve the new flight plan before execution.
This approach can help solve the scalability issues enterprises are up against today. It removes the burden on drone operators to manually monitor weather changes, avoid buildings and infrastructure, navigate around roadway traffic, and comply with shifting regulatory dynamics. AI technology can more reliably analyze complex data layers to uncover hidden trends and adapt flights in the rapidly changing airspace.
Why use SkyGrid for drone automation?
Ultimately, we simplify drone operations with more automation in one end-to-end application. Rather than using several different apps to find up-to-date weather and environmental information, get LAANC approval, plan flights, and execute missions, SkyGrid Flight Control provides a complete solution to automate flight authorization, planning, and execution. We do the heavy lifting so operators can focus on overseeing the success of the mission.
We're excited about the new features and functionality we have coming down the pipeline to further automate drone operations. Stay tuned for more updates!