The top 10 sites to fly drones in Texas State covering 4 city regions. They are Austin, Dallas, San Antonio, and Houston.
One important thing to understand about flying a drone in any city is that under federal FAA regulations, you are either operating recreationally or commercially. 
Commercial drone pilots fall under the FAA's Part 107 regulations, which require passing a multiple-choice test and becoming an FAA-certified drone pilot,

which are laid out here

.

 
Recreational and commercial flyers can easily identify controlled airspace and get authorization to fly using our free SkyGrid Flight Control app. As an FAA-approved LAANC supplier, SkyGrid provides real-time flight authorization in U.S. controlled airspace within the pre-approved altitude ceilings. This service is available to both Part 107-licensed and recreational drone pilots. Reminder to always be aware of your local drone laws. Here is a helpful list of drone laws by US State. 
Note: The content on this page is meant for informational purposes only and is not meant to take the place of legal counsel. When in doubt, follow the FAA's guidelines. 
Now let's dive right in with some of the best places to fly drones in Texas and its larger cities. The favorable drone skies listed here are great choices for amateur and professional pilots.  
The Best 10 Locations to Fly Drones in Texas State
Austin is the capital city of the U.S. state of Texas, it is culturally rich, demographically diverse and has one of the finest research universities in the world. Here are 3 of the best places to fly drones in and around Austin area. 
#1 Pennybacker Bridge Overlook
Pennybacker Bridge Overlook (which is also known as the The Austin 360 Bridge) is an architecturally pleasant bridge on Austin's west side that allows Highway 360 and pedestrians to cross Lake Austin/the Colorado River. This bridge is commonly photographed for Austin promotion/tourism brochures. The bridge also has a wonderful overlook accessible by this trail that is well worth a quick stop if passing by. It is a beautiful spot, and one with incredible sunsets.  
Location: N Capital of Texas Hwy, Austin, TX 78730, USA 
#2 Sand Beach Park
There are some stunning drone-friendly stretches along the Colorado River, and one of those is Sand Beach Park, TX (sometimes also called Open Room). It has a beautiful piece of usable community art–a large sculpture in the form of a picnic table, and a wide-open green space from where you can operate drones. The attractions for aerial footage are picturesque views of the city skyline and surrounding riverscape. Bridge lovers can get some great shots here of the James D. Pfluger Pedestrian & Bicycle Bridge providing access to Lady Bird Lake. 
Location: 111 Sandra Muraida Way, Austin, TX 78703, USA 
#3 Miruna Park 
Miruna Park is located on Windy Point which extends out onto Lake Travis in Austin, Texas. It's a beautiful spot, popular for its clear blue waters and picturesque scenery. Visitors come here to relax, enjoy picnics, camping, and more. Drone pilots love this location to get footage of the impressive 18,930-acre lake and surrounding landscape.  
Location: 6506 Bob Wentz Park Rd, Austin, TX 78732, USA 
San Antonio is a major city in south-central Texas with a rich colonial heritage. Here are 2 of the best places to fly drones in and around San Antonio area.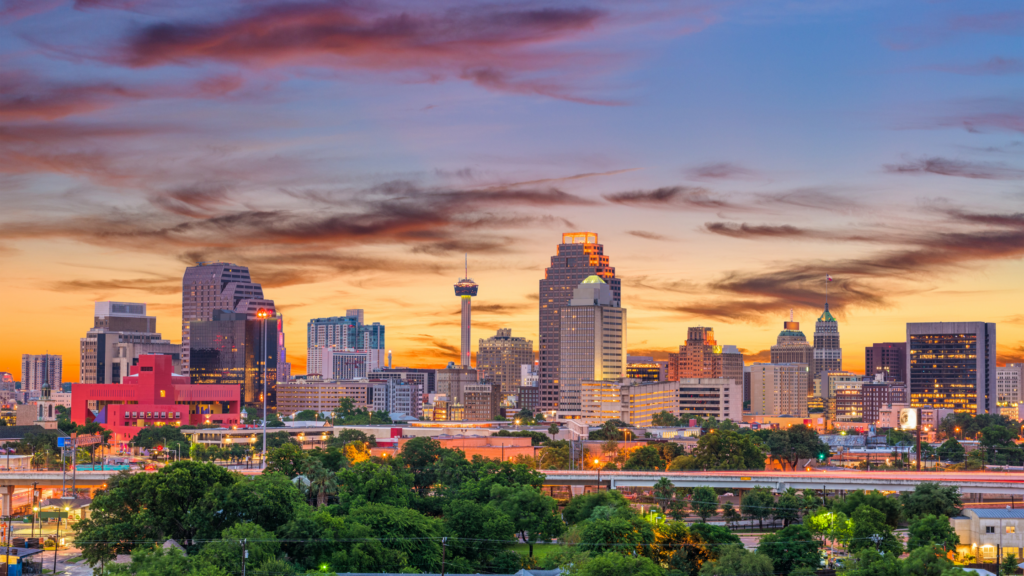 #4 Comanche Lookout Park
The green, scenic 96-acre Comanche Lookout Park in Bexar County has a unique vantage point. The site includes the fourth highest point in of 1,340 feet, and on top of the hill is the stone four-story Comanche Tower. The tower and its surrounding views creates some exciting aerial drone footage of this unusual scenery. 
Location: 15551 Nacogdoches Rd, San Antonio, TX, USA 
#5 Denman Estate Park
San Antonio's 21-acre Denman Estate Park is an blissful spot. The main attraction is the large pond, shaded by mature oak trees and the Korean monument, hand-crafted by artisans from our sister city Gwangju, Korea. Other park attractions include a scenic trail and the large open green field for recreation activities. Drone pilots can capture some impressive footage here. 
Location: 7735 Mockingbird Ln, San Antonio, TX 78229, USA 
Dallas is a modern metropolis in north Texas and is the commercial and cultural hub of the region. Here are 3 of the best places to fly drones in and around Dallas area. 
#6 Lake Cliff Park
The 45-acre Lake Cliff Park sits between leafy Oak Cliff and Dallas CBD, built around a sunken lake that forms the core of the naturalistic landscape. It is well over 100 years old now, but it is more popular today than it has ever been. Visitors get to enjoy relaxing green spaces, a small lake, water features, and scented rose gardens. Bounded by bald cypress, eastern red cedar, pecans, and cottonwoods, the lake reflects the downtown Dallas skyline behind the serene lake that is especially appealing for pilots of camera drones. 
Location: 300 E Colorado Blvd, Dallas, TX 75201, USA 
#7 Lewisville Lake
Few drone pilots can resist filming recreational reservoirs given a chance. The 29000-acre Lake Lewisville in North Texas is inviting. It boasts over 200 miles of shoreline, wooded parks, and huge expanses of blue water. Make sure you bring spare drone batteries. This park is filled with activity around the facilities of Party Cove. Some of those include fishing, boating, swimming, camping, hiking, dining, and more. 
Location: 600 Sandy Beach Rd Lewisville, TX, USA 
#8 White Rock Lake Park
You can find the 1015-acre White Rock Lake Park just 5 miles northeast of Dallas, TX. This remarkable reservoir is the result of damming the 30-mile White Rock Creek. It offers a clear setting for camera drones with sweeping views of the vast lake and landscape surrounding the lake. There are plenty activity options to enjoy here when you're not flying. Examples include boating, cycling, hiking, strolls along the pier, and more. 
Location: E Lawther Dr, Dallas, TX 75218, USA 
Houston, America's fourth-largest city is a cosmopolitan destination, filled with world-class dining, arts, hotels, shopping, and nightlife. Here are 2 of the best places to fly drones in and around Houston area.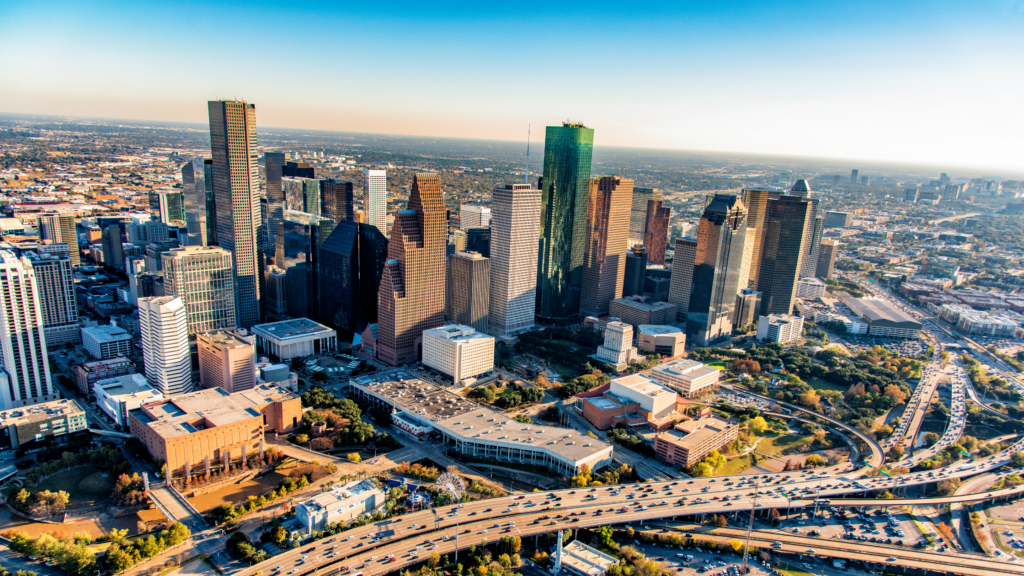 #9 The Kemah Boardwalk Amusement Park
The Kemah Boardwalk is a 60-acre Texas Gulf Coast theme park in Kemah, Texas, approximately 30 miles southeast of Downtown Houston, Texas. It is an exciting, colorful, and vibrant place, considered by many as the country's best boardwalk. Aside from the amusements, Kemah Boardwalk also boasts some amazing waterfront restaurants and stores. The attractions are appealing for pilots of camera drone users are plentiful. Trinity bay is an excellent place to film the water and surrounding urban landscape safely. Point to note: Please be mindful of FAA regulations when flying close to people, especially crowds. 
Location: 215 Kipp Ave, Kemah, TX 77565, USA 
#10 Terramar Beach
The Terramar Beach is a Galveston residential and recreational space about 20 miles to the southwest of downtown. The community allows public access to its beach. It is a favorite for birdwatching, boat launching, and the local marina. This is an ideal place to operate drones. Consider a trip here if you would like to add breathtaking views of West Galveston Bay and the Gulf of Mexico to your portfolio. 
Location: Galveston, TX 77554, USA  
There are numerous places of natural beauty and distinct urban skylines in the state of Texas. Remember to do your homework and check Local laws before you take to the skies. Drone pilots can easily identify controlled airspace and get authorization to fly using our free SkyGrid Flight Control app.  
Download SkyGrid Flight Control for free in the iPad App Store or learn more about our advanced enterprise features.